http://www.force.net.au
I will get some of this gear in to test it out…the downhill trucks got rave reviews at silverfish.com: better than randalls and holeys they say!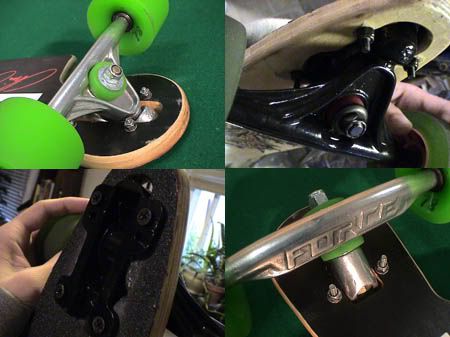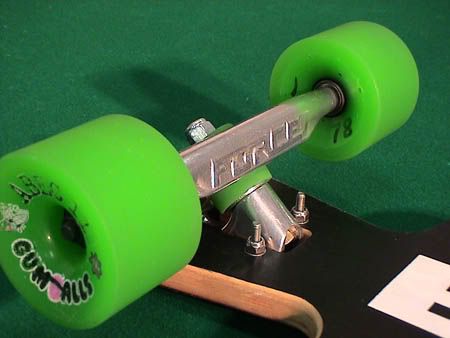 [/url]
FORCE INDUSTRIES C7 & R7: the Aussies do it right.
Force Industries is an Australian extreme sports dynasty. Run by DH skateboard racers, motocross jocks and surfers, they produce surf-, snow- and skate-boards that cover the high-end spectrum in the island continent. They've produced two trucks for longboarders, both of which are very closely based on Randals. The R7 uses an honestly-indicated 7" hanger and 50-degree kingpin angle from the baseplate. Using the same hanger, the C7 uses a 35-degree baseplate. We've got them both.
Construction: the Force hangers are essentially an RII-180 on steroids. They've been beefed up, using Finite Element Analysis and a commitment to curvy lines, to match the asymmetrical dimensions of the Randal but with deeper cups around the bushing seat and much larger buttressing of the axle. This is not a flimsy hanger, and the gravity cast aluminum has a smooth, hefty feel to it. The baseplates are another matter: they're curvy, elegant and light, with holes we found to be perfectly aligned for mounting on decks with either the New- or Old-school hole patterns. The blackened kingpins are 2.75" long, 0.370" units with a domed top. Interestingly, we received our R7's with the dome facing out, and the C7's with the nut facing out, as we generally prefer. Swapping for a Grade 8 bolt was quick and easy, with no hang-ups whatsoever. Force produces their own bushings in 84a Durometer and uses a standard barrel-profile bushing for the lower side, supported with a beefy cupped washer to bring the bushing to the same effective dimension as a stock Randal would have. The upper, conical, 0.50" bushing is contained with a cupped washer. The hanger ends are finished accurately and the pivot interface is great.
Appearance: these are strong-looking trucks! The deep, curved buttresses stand out and give the trucks a muscular appearance as they peek out from under the end of a board. The Force logo is deeply embossed on the hangers and the C7's we've got have a sturdy-looking black enamel coating that sets off against the striking red bushings. Our R7's are raw, but display no pits or excessive mold lines.
The Ride. Both of these trucks ride exactly like well-tuned Randals do. Every twek and tune you may know for Randals works even better with these trucks. With properly aligned kingpin and pivot points, accurately-drilled baseplates and very-nicely made bushings and pivot cups, the Force trucks offered us no surprises and no reason for complaint. They do exactly what they're supposed to do!
We mounted the C7 trucks with their 35-degree baseplates on a "mild speedboard" for a series of attacks on the hills of Rancho Bernardo, in San Diego. Like the fabled La Costa of the 1970's, this inland community has miles of perfect pavement, long hills and little traffic (it does have homes, unlike the La Costa of lore, however). At lower speeds, the excellent Force bushings surely allow for carving but it was not until speeds picked up well over 30mph that the Force trucks bared their teeth and really inspired our Consortium riders. At speed, the C7's were wobble-free without use of hard or "deadened" bushings. In the dark-night bombing runs, the precise interface between the hanger and pivot area provided an exacting ride, allowing the riders to tuck in and blast lines with full confidence.
We put the R7's on a Big Red X speedboard. This deck usually sports RII 180's with the rear hanger flipped, and that's how we setup the rig with the Force trucks. "A/B testing", as it were. Well, we gave the board to Consortium members without revealing it didn't bear Randals, and we bombed Banana Bay, carved the campus in La Jolla and raced the hills of Rancho Bernardo. Similarly to their sisters, the R7's perform like a flawless Randal should. They're carvy and turny, but stable at speed.
We tried a few different setup with the Force trucks, basically doing everything we'd do to a Randal, at least in terms of flipping kingpins & hangers, or various bushing combinations. If it works for you on a Randal, it will work on a Force, but a little better. There's a tangible improvement when holes line up right!
Wrapping up the Force C7 and R7. Everything about the Force trucks surpasses their inspiration, with ease. Quality stock parts, a clean finish, a strong kingpin and well-faced hanger ends make these quality pieces of equipment. The Australians need no longer pay a premium for an imported truck –this domestic suits the bill! North Americans with the ingenuity to find the right way to acquire these (or with deep pockets) will find them a refreshingly familiar item; a fulfillment of the design.
These r7 and c7 trucks should work out to be $85.00 a set!
more info soon.