sac from radalaide skateboarder for life amazing tat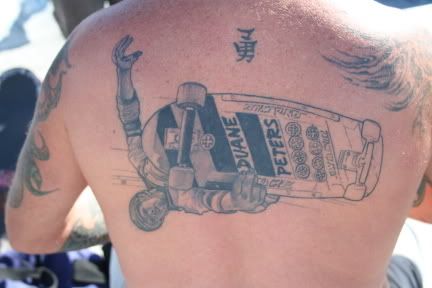 John,
He's like an art gallery. The work done on the rest Sac is probably the best I've seen. (especially like the PP skull & crossbone)
If your there Sack where did you get them done? Been thinking about a mid life crisis tat for years now!1
TG
holy shit that is a serious tattoo
Ive been thinking of inking something
just gotta find the right artist
Chin
Your in Melbs aren't you?
I would start with Geordie Cole at Tattoo Magic on gertrude street, he is a very versatile and skilled tattoist with a good attitude.
I would then have a look at Sara Bowyer at Trevor Mcstays shop (forgotten it's name but if you google Sara Bowyer you'll get there). I've had my last 3 tatts done buy her and she's spot on.
The guys at Chapel Tatoo (on Chapel st, Prahran) are also good and specialise in cool, old school and sailor styles.
Dive in mate! Melbs is a great place to get inked. I waited 10 years to find the right artist in Perth and as soon as I hit Melbs I had a look around and the quality was excellent.
The guys I have mentioned above are by no means the only good tattoists in town either. They arev just my picks from those I looked at.
The only difference between me with tatts and someone without, is that I don't give a shit if they don't have one.
(this was written on the shirt of my first tattoist)
Tony G
SAC gets most of his work done by Shep in Radelaide.
I can't remember the shops name but the radelaide crew will know who he is (Call Coping Cobana).
Sheps a tatooist, skater, drummer!
Cheers
Im actually from bondi
but i do get down to Melbs a bit
thanks for the tips
Ive decided its gonna be something
on my left calf