Enjoy,
Jamie Greentree (Warning: Colours may damage your eyes)
Corbin Harris

Adam Luxford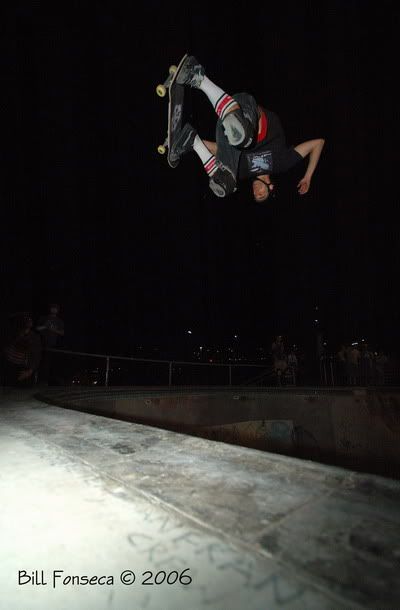 Mick Mulhall

Regards,
Bill
Geez you're quick on the posting tonight Bill. I'll have to make that layback next time. The pic is bloody nice though. I like Luxfords backside ollie too, but the one of Jamie just makes my retinas burn.
Hey, do you mind if I send that pic to Pro-tec? I'm sure that Paul will like it.
haha… I can't wait to meet the ladie that Jamie marries.
I can't beleive that I just spelt lady, ladie. Dyslexia is a horrible disease.
With my professorial gown on, I must inform young Master Mick that his spelling was correct the first time. It is Lady in the singular; Ladies in the plural.
What's worse is that Master Mick appears to be attempting to pre-empt the Bondi layback that was going to lay him to waste in the old bastards section of the next Bowlarama …
you may now go to recess.
Gee… that must mean that Jamie belongs to one of those religions where he can marry a gaggle of geese. Lucky bastard!
Re-read my post Bill. You will find that I was in fact, incorrect the first time around. Get your spelling B cap on mate!
You also missed my Eric Grisham styled foot plant attempt last night Bill.
Mick your not alone with the speling woes
funny thing is im into girls who wear all black.joan jett is so hot.as is the one with dark hair in bananarama.its all about the bob haircut…shit thats a good band name. bob haircut…and yes mick i also would love to meet the girl im goin to marry.