Bret,
Welcome to the club!
Hey kids can your Dad do this?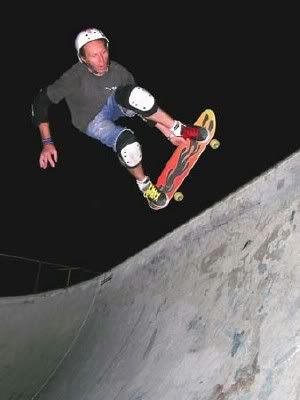 Congrats Bret! How many is that now in the 45+ club?
I think Markham might be in.
Gary Nowlan is in.
Errol you must be getting on now!
Hey bret - I got you a nice pair of TSG elbowpads - size small - for your birthday.
Seeing you missed my birthday last year - I'd like a set too - size medium would be nice if you have any.
Carey.
You're right Wedge, 45, limping, and still loving it!
Happy B-day there one-T and welcome to the club !
Brett 45? I thought he was older than that! I must be getting younger.
Ground hangers,42,skate exec 40 in March, Me 42, Skoot 44, Mosu 40 in March, Clay 43 , Mash average = 41 with Rich, Pat and Parker thow in
Sorry forgot to wish u on the ph on sat Happy B'day for thurs.
bet the pressy wasnt as good as Xmas hahahaha
Happy Birthday Brett!!!
King of the Step Tail

Onya Bret'
Cheers bud' I'm hav'n a coldie 4 ya'
hey Bret - have you actually read this topic yet? How about an acceptance speech or are you in denial?
Welcome to the 45 club, Bret.
Many Happy Grinds!
HA HA - now your old.
Happy birthday MARKHAM
Don't tell me he's in bloody Shanghai again! Happy Birthday ya old borf.
Well I am impressed at the birthday messages from brotherhood… I actually didn't know this thread was on until someone told me…
I think the 45 club is getting bigger and I am happy to be a part of it… Next goal is 50 and still busting fat air (both kinds although I favour backside fat air)… lets see if those young 35 year olds can last that long after years padless skating…hahaha!
H.B. one-t.
What did you sport yourself to celebrate?
Just to let everyone know, One-T is the original master of skateboarder possession and body-snatching. At the 2002 SOS Jam he actualy spent the entire day being Biff! People were really freaked out. So watch out you 35 year olds, cause those use-by dates are coming around again and Mr T is gonna need some new parts real soon, fools …
BS
Freaky…people did think I was Biff… which was a real honour as I put him as one of the most influential Australian skaters of his time…however I would have thought that after I skated they would have known I was an imposter…
Oh yeah MM… I am off to Shanghai again in March…