It was RAD, but now I'm knacked, sun burnt and sore. Don't know why I'm tired - we just had a quick warm up sesion on the Friday from 12 til 6 and then another warm up from 11 - 5 on the Saturday, before the main event. Then the after party…
More news later…
Was a good day. I was only there for a few hours in the morning. Managed to take some good pics and some video. I'll post it up tonight. I went home to empty the camera onto the computer and my wife had me mowing lawns and walking dogs etc. So couldnt make it back. It was cool to see the MOSS crew in action in the bowl. And I finally met with Braden. Thanks heaps for the decks, wheels and bearings Braden. I hooked up a set of the rockets in some team dubs on the bigfoot that night and skated it for hours on sunday at Dulwich Hill. Man those rockets are simply awsome. New favourites. The Bigfoot is like a whole new experience now.
Scott.
it was great leah. i took the family and spent a couple hours. great to meet braden finally and see a few old faces… funny to see people giving each other a second look like "geez that guy - i know that guy…" some faces i haven't seen for 25 years!
had a go on the banks but my skating is nowhere near up to tile carving standard. some of the boys really ripped it up with all the old moves, plants, inverts, berts, airs, grinds. i am truly inspired now to get my skating back up there and have a fair dinkum go in 2005!
there was one guy spectating that threatened to spoil a good day by starting on the JBnCoke a bit early
by 1:00pm he had smeared black stuff on his face and was getting louder and louder with language to match
i'd be keen to hear if he ended up in a pile somewhere…
Ha Ha, sounds like a hooer of an affair…will have to get the plans in place so I can go next year!!!
Great to catch up with you Skatexec and Scott…what a day, my wife (god bless her) babysat my son when he hit the wall but rejoined us at the after party. Freeform chaos at it's best…the guy with the blacked out face must have blscked out coz he just disappeared.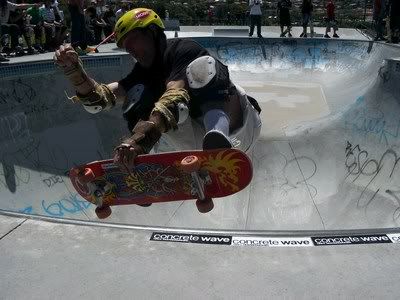 Wedge Francis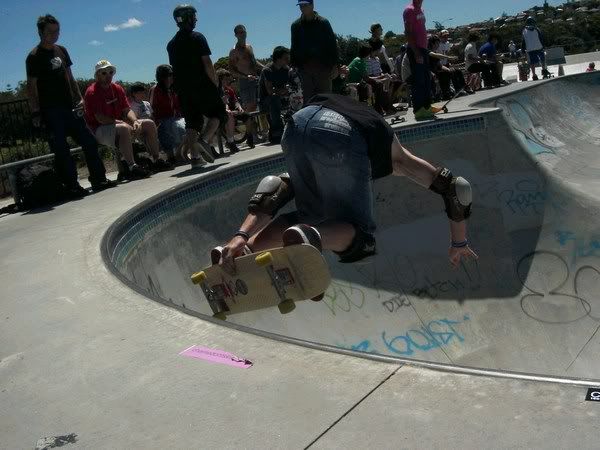 One T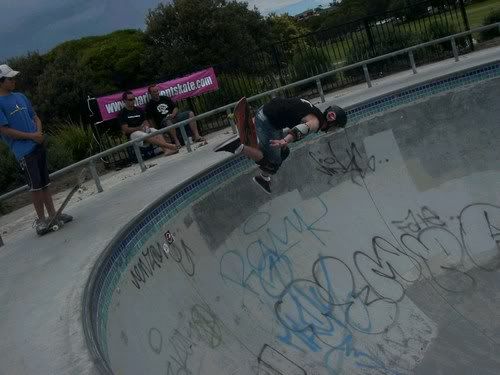 oNE t IN sPACE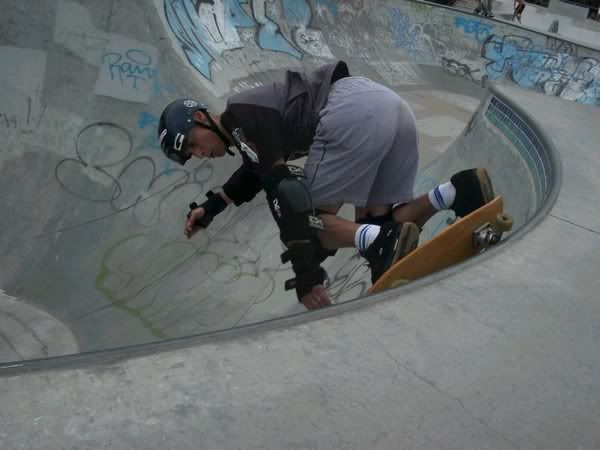 dAVE pANG BACKSIDE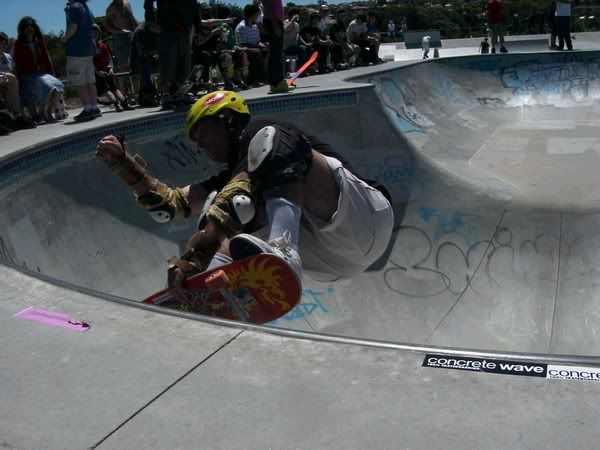 WEDGE WEDGE WEDGE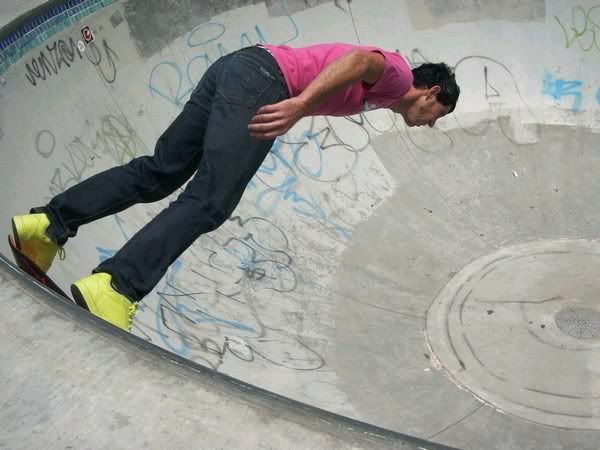 Cant REMEMBER tHIS gUYS name???he was so fast tHiS IS tHE ONLY sHOT i gOT!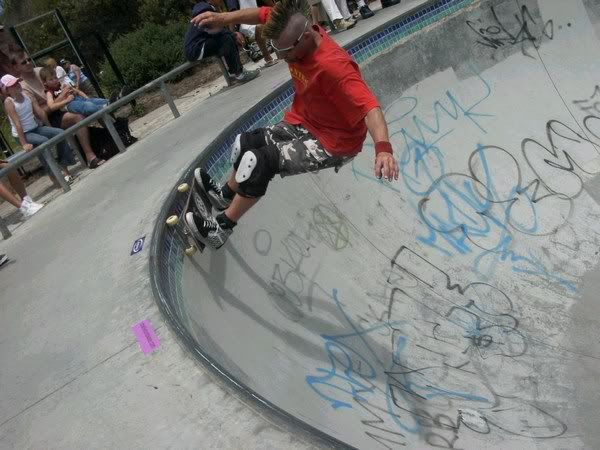 MMMMMMAAAAAAAAAAALLLLLLLLLLL!!!

BAZZA (barry strachan)
What a blast of a day!
After too many hours of sun and a bit of wind burn…most of Saturday is a blur…
Awesome being able to skate with the likes of: Adrian Jones, Wedge, One T, Bazza, Sac Reynolds, Danny Van, Johnny Gray, Graham, Daz, Darren, etc
Had a quick squiz at Bondi on Sunday morn. looks very compressed space wiae and I'd be damned where you will find a car park? But the bowl looks promising.
Sunday morn skate at the Bra was fun and then a great session went down at Marulen with Potty, Browny, SF Dave, Cuzza , Jim Fowlie etc.
What a weekend!
Great shots Scott, I gotta get a D70…did you fiddle with the shots much?
Got any more? I'll shut up now.
Yeh, fiddled a bit. Its a bit Sports Illustrated eh. Still, skateboarding is style so why not shoot to suit. I like using slow shutter speeds with your eye locked on the target. Shows speed and action. Not my Nikon. Easy to use but. Now I'll shut up.