Skatexec, unreal, up there with the best. Great pic!
SOS Jam Sat at Bra
stack of the Day award to Richard. He recovered fine

Danny Van Hand Plant transfer

Danny Van Air the hip not a land but he did make it

SkatExec grinding

Not sure who this is but love the hand plant
Its going to take me a fortnight to recover from this weekend. I must be getting old
Mark thats AJ, I was just talking to skoot we where going to Hullys but where both too tied , man when I close my eyes I see hundreads of tiny skateboards rolling in my head
PS Lee and I would like to join you for an indoor climb on Tuesday night wiil call you.
Didn't make to Hulley's either… knackered…
What a weekend!!!
MAS*H / BTS crew up for MOSS Jam hands up! We'll split a hire Tarago and organise some accom
i think it is the feb 11 weekend, need confirmation though. matt was saying friday bowl tour, staurday 'world cup', sunday jam - woo hoo!
sounds good. stop at canberra? and make a MAS*H run tour??
my knee should be better by then.
front page photo props to John the Pom and SkatExec!!!
f#*k yeah ! i was on the biggest buzz when i got home and loaded the photos just had to post them straight away saturday was great five week old daughter stopped me coming down sunday ah never mind fanx braden for using the pic nearly as stoked as steve
Shame I missed it…would be great if you'all can make it to MOSSJAM 06 though.
Plan to Braden. See how many bods we can get together. Fly down Thursday night 9/2/06, back Sunday night would be my plan.
Sounds good Steve! Sunday comp will run till 6:00pm at least.
Here's one of Steve… a still off video with a bit of photshop "arty" stuff applied…
I'll see what else I can pull off the vid (if there's anything any good)
wedge and big dazza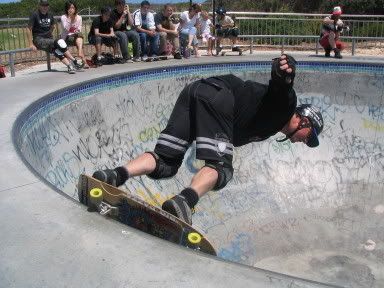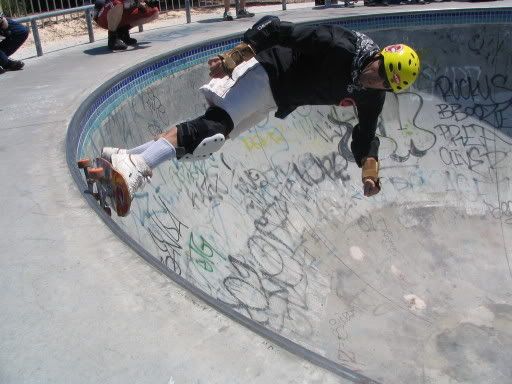 been a date change for moss jam to be anounced soon most likely 7 8 9th of april stay tuned to this web site . onet will in form all soon i hope.