Nice job Pat!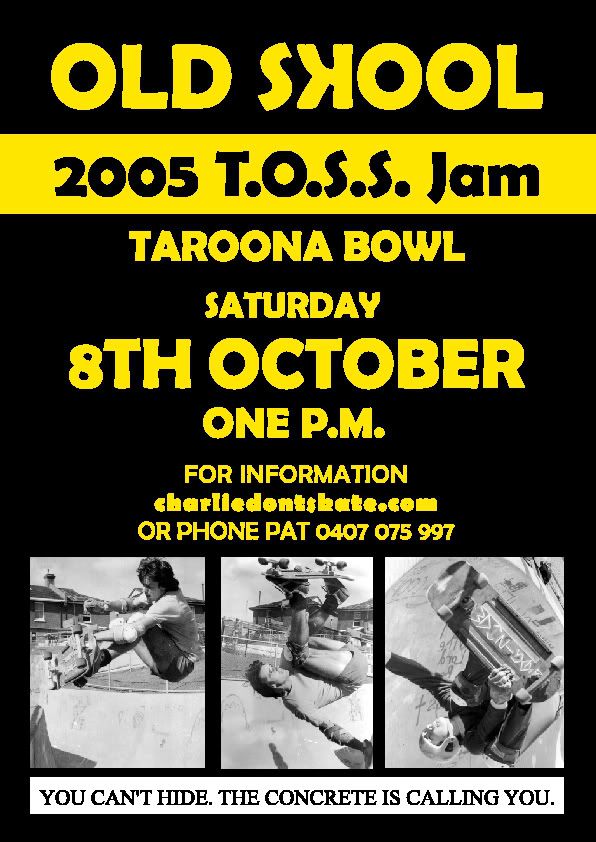 what the ---- is this about a bunch of tossers or is it tassy blokes please explain…
The inaugural (damn no spellcheck) Tasmanian old school skate jam, is on Marty…do I smell a spirit of Tas party?
Bring your sister and Toss on
apologies to the Bretheren from the Deep south I just couldnt resist after 7 beers
TOSS Jam - Rad.
Are any of you MOSS crewzers out there going to toss yourselves on to the ferry for this one?
www.skateboard.com.au gives the park 4 stars. Looks like it's got some bert-able banks. Plus a couple of 4 to 5 foot bowls.
Toss crew, what's the park like?
Jetstar has tickets for about $170 to $180 return from Melbourne. Qantas is much dearer.
Has anyone got any skate points I have?
Wedge.
highly bertable banks, high speed carv'n, endless lines…
…Cheap beers at the Bowls Club next door too!
we might even get them to bring out the Barbie.
Was planning on going to RADelaide for Air Bag but just found out a flight to Tassie is $100 cheaper. So gimme some more info on this here TOSS Jam.
Any other crew heading down ? Don't mind being a solo traveller but it's always good to hook up.
Skateboarding, travel, beer. What else do you want hey ?
Tone
If i get my tax back in time im a likely starter
Nothing like a boags off the wood at the bowlo
…Sunday could find a recovery session at West Hobart bowl… or down to Kettering to sk8 the park there - nice bowl, with vert wall (check it on skatboard.com.au)
I will talk to the girl…but may be able to put a coupla up for the weekend if ya aint got anywhere to stay.
me again.
any crew travelling down to Hobart…
Have 4 spare beds, a couch, and floor space…enough for 8 or so…
If you want a place to crash for a coupla nights, get in contact with me and we'll sort it.
S.
one month till we TOSS…don't know if I can wait that long.
TOSS JAM PROPAGANDA DEPARTMENT
!!!Tasmania's old skool skaters!!!
If you ever rode EMC banks, carved West Hobart bowl or jammed at Hadley's half pipe or got chased out of the Elizabeth street mall. This event is for you
It's time we got together and skated down at Taroona bowl
Please come along for a skate or for a drink and a chat.
This is not a competition but a social event…
To participate all people should be twenty-five years old or over.
The day will run in three expression sessions of half an hour long
Starting at 1p.m Saturday the 8th of October
1st group 35 and over
2nd group 30 to 35
3rd group 25 to 30
If it is raining lets meet in the bowls club for a beer.
No Groms
Further information should be gained by the Internet forum on "skateboard.net.au.au"
Or by phoning 040707 5997
bowls club will turn on sausage sizzle
Damian will be on the wheels of steel
been in contact with old skaters but still need to put out an APB on the likes of Monster, Bear, Tike, Cheeko, Grasshopper, Dog etc
confirmed is jim cool and johno,Kieth,Greg,both Pauls and possibly Tim Levis
Got a phone call from Avon last night.
Still skates!!!
Said he would try and make it…
nice one Pat, reckon it will be a well attended day, dispite the lack of interest from this forum…
Is bad timing for a lot of the family men who are off to radelaide next w/e
How about this?
just managed to track Tim down and found out this.
[color=blue]Dear Pat
Nice to hear from you.
Thanks for the invitation. I will put it in my diary. I can't promise to attend but will certainly try to make it.
For the record I returned to Tassie in 1979 after competing in and winning numerous comps in Europe and the USA. I skated for a number of outfits including , Alpine/G&S and Freeformer. I often skated with guys like John Sablosky, Marc Sinclair and Gerry Absolom. I also skated with Stacey Peralta, Tony Alva and Jay Adams - now the subject of modern folklore.
I didn't have much involvment with the design of the West Hobart park. Indeed when I returned to Tassie I was contacted by the HCC Architect to endorse his design. I expressed my reservations and suggested that they should give consideration to a series of ramps and half pipes instead…20 years later…
Anyway nice to hear from you. Keep up the good vibes !
Regards
Tim Levis
-----Original Message-----
From: Pat Townshend
Tim
I've never met you. Only heard about you!
I under stand you are quite a awarded old school skater. And also the designer of West Hobart bowl. I am currently organizing an old school jam at Taroona park and would love to boast your attendance at this. Please do not hesitate to contact me Patrick 040707 5997
---
…what a fucken legend.
would be great to see him down there…