Ok - they are'nt on the wall (for some reason wifey wont let me put any on the wall
), and the ones with wheels get ridden anyway!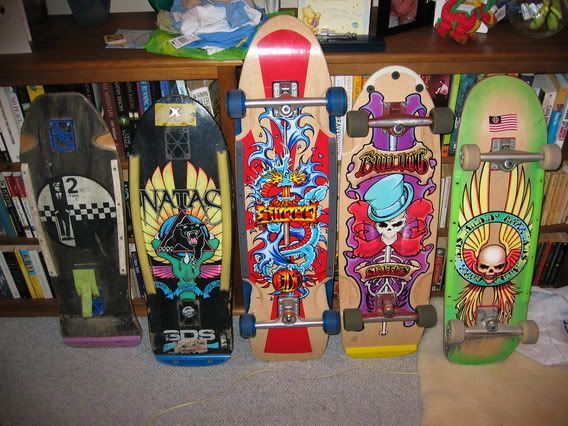 L to R: 1) Blank Deck from Skateboard World circa 1984, 2 Tone logo handpainted by me with Airfix paint
2) SMA Natas deck with Borgy rails - recently retired from active service
3) BDS Shogo longboard with Indy 215s and Alva Ditch wheels (jut setup today - not even ridden at time of pic)
4) BDS Skull and Cane, old red Indy 169s with old Slime Ball wheels (trucks and wheels pinched from the Natas) - its my ride to work/shops/bottlo skate.
5) BDS Buddy Carr, Indy 169s and BDS Winged Skull wheels - my current skatepark/bowl skate.
Wants: One day, when funds permit, an Olsen Land Shark.
Also a shed to put all my toys in!