Greg

Bill

Danny Van

Adrian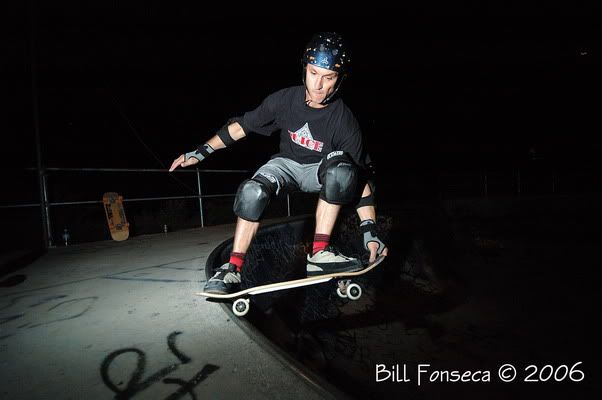 I've got more. Just need more time to post. Maybe later.

Cheers,
Bill
Woz a kewel nite'
Highlights = Skate Exec' gettin' those inverts flowin'
Bill = lookin' out fer' Light poles hittin' him, plus trucks (here lies Bill, "But it was funny" !, heh-heh-heh)
Mustang M' = Backside grinds dude, woooo-hoooooo
& definately the bank session…Killa fun' (Back to the Future all)
Oh yeah' after Jamie ripped the Bondi apart, killed himself & popped his shoulder sk8in' flat (wotz goin on there ?) heh-heh-heh
Cam, ever since you seem to have had your flanno surgically severed from your waist I have been facing multiple forms of mortal danger. Its not good enough having it 'nearby', it needs to be placed where it should: on those subtly gyrating hyper-bogan blokish hips. Otherwise inanimate objects will continue to seek revenge and lives will be needlessly lost at the spooky 'goth bowl' of Riverwood
What other explanation can there be for the fate of your superfriend, SuperFashionistaFlouroMan?
Yo every-1
Did any-1 find a pair of Black Nike' fingerless gloves at Riverwood on Wednesday night, I got a feeling I left em' next to the bowl, they have a velcro wrist wrap setup type thing on em' with the Nike swoosh deal on the back of the hand…
Pleeezzzz tell me some-1 found em' they were so comfortable & protective without goin' over the top (I just can't grab the board solid with normal wrist protectors)
Any info' would be greatly appreciated…
Cheers, Cameron
(man…I think u r' right Bill, all this bad luck happnin'…from now on the flano' ain't leavin' my side, rest assured matey, the super protective power of the flanno is back in the groove - where r' u Jamie - wonder twin powers activate…form of a Furolette')
Cam there in the back of Gregs wagon I thought they where his when we where packing up
You cannot be superstitous enough in relation to skateboarding. There has been a rash of unexplained injuries across the continent. The balance must be restored. The removal of the flanno has clearly upset the equilibrium up and down the coast.
perhaps you need flanno pattern griptape! (or is that tartan pattern griptape???)
My friends, I have finally arrived at the perfect synthesis of flanno and flouro in a single fabric. Behold:
Yes people, it's the full body pink velour jumpsuit! Who can resist it. Soft and yet shiny. Comfy and yet spectacular. Blokish and yet ambivalent. Please note that the model appears himself to be a bizarre synthesis of Jamie and Cam …
Oh' Great Greg 1'
Where u' rollin' next, I wanna p/up my other good luck charms, (me Nike gloves) thanx heapz' guyz'…I am speachless…except fer' this lil' song…"Oooooooooohhhhhhhh, I get by with a lil' help from my friends,…I'm gonna try with a lil' help from my friends…do u' neeeeeeedddddd anybodyyyyyyyyy, I neeeeddddd somebody 2 luvvvvvvvv…
Thats it, the flanno' does not leave my side from now on…I was frettin' about the gloves (fully), but u know what, I chucked the cape on this evening, & went fer' a downhill bomb, thongz & all…& it has now shown me that the flanno is para' - universal, it does indeed affect space time continuim itself…I mastered the Scott Oster'ish backside stylin berts at speed, there is sumtin' to be said about flanno (but behold…I am not the one to preach…I am the one to enlighten, u' choose to follow, heh-heh-heh_) I wish ur' noggin well Doc'
U' r' all protected from now on within the labyrinths of Riverwood', I shall sprinkle a lil' flannelette on the coping b-4 every session (no matter where, no matter how)…
Man I am stoked I have me' gloves saved ! (to me a National Treasure)
Oh yeah'
P.S. thats a sexy lookin' dude ! heh-heh-heh
(Wonder Twins powers activate - form of a Bon-Scott)
Don;t laff' guyz' … terrie towelling hybrids are coming back !
By taking the essence of Tsubis and Stubbies and recombining in a single all-enveloping body glove, the pink velour jumpsuit will revolutionise skate fashion forever. To paraphrase TA 'if it wasn't for velour, there wouldn't be anything man' …