great website and very happening wmv file (couldnt get the sound to work …).
any chance of purchasing the vid via your site?
I am really interested in both these dvd's…anyone else? I gotta get some!


A movie about pools by those that skate them. The first full length film by Nick Gates. Many sick spots with riders such as Jimmy the Greek, Benji Galloway, Salba, Brian Patch, Neil Heddings, Dave Ruel and many more. Quality punk metal soundtrack including Monster Trux, Smogtown, The varukers, Star Strangled Bastards, The Faction, and much more.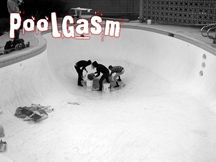 The newest film by Nick Gates. Poolgasm is a look into modern pool skating at its best. More pools, More skaters, More sickness than Hessian Sessions. World Release date is May 21, 2005. You may preorder your copy, will ship on May 21, 2005. First 100 orders recieve special Poolgasm Edition.
Dont know what they are gonna cost…not much…who cares?
Any relevance to the Hessian hellrider from Shitty???
BRADEN, ANY COPIES FLOATIN AROUND OF THESE DVDS YET? IM DEFINATELY UP FOR 'EM
braden,
i am interested in gettin my hands of a copy of these two vids…
really want to find some pools to skate…
eugene
Been trying to contact them for a week now…will keep you guys posted!
I've got Hessian Sessions and it's def worth a look. Nick is a super nice guy as well. Highly recommended.
T.
whered you get it from tone??
Got a response, and will send off an order.
AUD$22.00 each.
Braden I'm in for them Put me down.
yeah, braden
you can put me down for a copy of both…
Please Sir can I have 1 of each
ive got dvds of chlorine,downhill motion, beers bowls & barnies, tent city,dogtown etc… for $10. can hook anyone up at moss sessions or can post for a small added fee.
Chris,
would love a copy of beers bowls nad barneys!
no probs eli, just let me know.got heaps of other stuff too
Chris have you got multiple copies? im interested
HEY MOSU, YEH NO PROBS, I HAVE MULTIPLES. OTHERS INCLUDE ANIMAL CHIN, LATEST WHAT IF…BLIND,TONY HAWK SECRET SKATEPARK TOUR, REAL, 411 issue56 & 45, ALMOST ROUND 3, GLOBE WORLD CUP03, DC VIDEO(DVD), KING OF THE ROAD.