Enjoy these fellas,
Nik

Jamie Greentree

Danny Van (not a land but funny photo)

Corbin Harris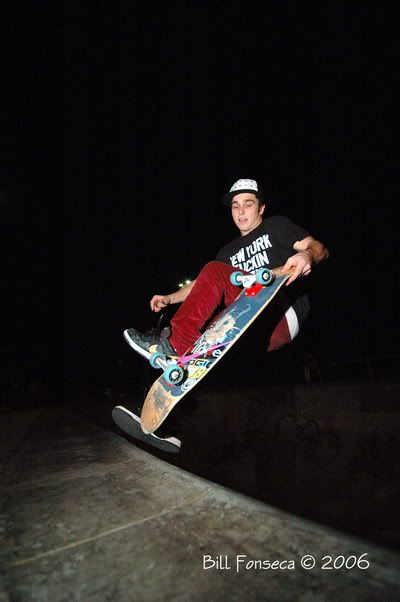 Boris

Regards,
Bill F
quality work as always. Specially enjoying the Jamie pic with new and improved sound effect t-shirt
Hey bill did the photo of the backside smith work out? I would love to see it, great shot of Nick by the way 8)
Bill, that's a FANTASTIC bunch of photos. What an old living legend Danny Van is? How 'Powful' is Jamie? How serene and floaty is the Dreaded Nick?
I was bummed to miss the night, but rib pain plus an inexplicable fear that I might be bashed to death by a bunch of marauding robots defeated me …
Ok Boris, there not quite right but, anyway we'll keep working on it. Here they are for you.
Regards,
Bill
get the framing right ala that 2nd shot of Boris backside smith and that'll be a money shot. Looks rad and insane.
Rad shots alright. Dan Van is the man with laybacks and gymnast plants - dude is unstoppable for an old bloke ! Beaudy of Nicks air, and Jamies pow grind, Corbin shredding as ever, and shots of Boris's smiths are only just a fraction out of frame off being incredible - even more so for Boris's stylin' colour co-ordinated socks&shirt, shorts&helmet combo !
Bummed I missed it too. Got progressively sicker during the day & by evening was rooted with the flu, home in bed & occasionally online today.
Bill the Boris shots are interesting. focus is great but I think the smith would look best if the photo is taken on the side of the maneuver, so that the left hip is midshot.
Too many great shots, not enough front page…what a hassle ay Fox
Bill, shots rule.
I agree Danny Van is killer!
What pads is he wearing?
The Hosoi looks so cool!
Thanks Dave,
OK, last few guys, great hand plants Danny. Yeah, I agree with you Mark, I'll have to play around with position (Next time Boris, now that you have that trick mastered
8) )
Danny Van

Corbin Harris

Cheers,
Bill F
Thanks bill for that.Iam stoked
. Errol Iam glad you noticed my fashion sense i have been putting a lot of effort into it lately( i just wish the ladies who get down to the bowl would appreciate it). Iam slowly evolving into a EMO and one day wish to be able to join the esteemed ranks of corbin and jamie.

P.S I have been told not to shop at double bay warehouse or lowes,its my first step towards fashion glory 8)
Wotz' wrong with Lowes ?
D' best flannoz' & King Geez' goin !
DP. they are the new ProTec vert pads' a lil' more padded in the upper front, different caps, etc…They are very good actually !
sfsc members have been watchin you very closely boris.we just dont know if your really commited tho. you know our motto? fashion before function.i have seen the independent shirt twice now. not a good look being seen in the same clothes twice. thats so last seaon.
although brown is the new black . ill have to put your case to all members at our next meeting.on a serious note .Todd was a very good mate and i miss him dearly .its so hard to believe he is gone . always had time for everyone never heard im say anything negative ever the guy ruled on a surfboard . and i swear he never ever skated in shoes i dont think he even owned any and did not hold back in the bowl at all carve grinds in the deep end no shoes and on a tiny little alva swallow tail thing R.I.P curl todd
deep blue is the new black.
Sfsc robs everything from the rock scene;
We set the trend.R'n'R!!!
I have more fluoro than you.
So sorry to here about your friend,I kinda knew him from around Bondi,
its so sad.Alison.
Im throwin' down a fluoro challenge.
I've been collectin'fluoro t's for 10yrs!
Alison, hope that knee gets better soon. And those jeans get even tighter 8).
Knee is not great,got a bit of a tear in the posterior cruciate ligament.
John Fox advised me to seek med att.Now doc is saying no skating for weeks!!How am I gonna get better?
It's pretty sore though…
Bummer dude! You should probably try doing some stretches when you start skating (wearing your I Hate Yoga T). And invest in TOITER stretch jeans for the full prophylactic body envelope effect. You could also consider a pink velour jumpsuit - those things can change your life.
Alison I torn the crucite 4 times in the right knee twice in the left cross tackles from the inside center, if I would try run the ball between the 5/8 and centers it actuly does not take to long to heal if your can bend it to full extension you can skate on it . Ill call you in a couple of days and as for stupiod tight jeans loose jeans no jeans who cares